The collider of SAMK's students and companies
SAMK students work at the Academy on real problems and development projects of companies in the Satakunta region.
The Academy of Business and Technology consists of students and experts in the following fields:
Logistics
Industrial Management and Technology
Business and services
International Business
Read the news article about the Academy of Business and Technology on SAMK's website.
The Academy of Business and Technology offers companies the opportunity to work with the top experts and at the same time it offers students the opportunity to study for a working life.
If your company has project work without factors, you will find enthusiastic and reliable implementers in the academy!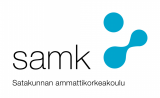 Twitter feed is not available at the moment.